Main page
»
Acrylic 3D Emo Frame - various sizes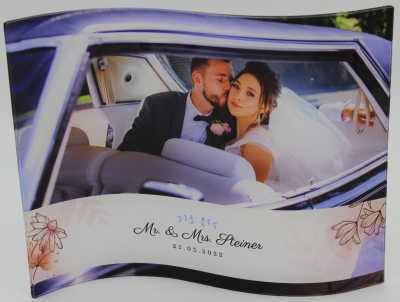 Acrylic 3D Emo Frame - various sizes
Acrylic Emo Frame Don't let your most beautiful moments disappear on storage media.
Do you know the problem that your most beautiful family or holiday photos are stored
on any drives or memory cards and That's why you can't look at them too seldom?
Are you looking for an attractive solution selected pictures at home or to be able to set it up
decoratively at the workplace? Would you like yours best moments to people who are
important to you? Then you should definitely check out the unique and now new on the Look
at the 3D photo panels available on the photography market. 3D photo panels have everything
you need for stunning Photos or a great gift needed. 3D Photo Panels are molded prints of
yours in crystal clear acrylic digital images, inspired by a subtle arc or wave shape.
By printing on the back of the panel, the photos get a special depth effect.Because each 3D photo
panel is individually printed is, each picture can be given personalized messages.
With sublimation printing, color gradients, the finest details Brilliant colors but also a deep
black can be produced. Thus, these 3D photo panels have everything you need for breathtaking
Photos or a great gift needed. The curved shape also gives each standee its own Dynamism.
A nice side effect: the 3D photo panels don't need one Stand, they stand by themselves.
The possibilities are limitless. From the combination of many formats and three different shapes
a multitude of possibilities can be created, depending on the requirement and motif 3D photo panels
can also be used as eye-catchers, advertising media, price tags, Use information boards or art objects.

When ordering with a print, please send the motif in good quality upload via file upload
when ordering.We will then check the image quality according to the size ordered.
PROPERTIES
Material:     acrylic
Thickness: 3mm
Design: For setting up
Printability: All over